The cycling cap
for chic cycling ladies
Printed, silk-screen printed and made in the north of France
The cycling cap
for chic cycling ladies – Printed, silkscreen printed and made in the North of France
… for the bicycle lovers women proud to be cyclist !
worn in older times by the racing cyclist, the cycling cap is an icon of the cycling world. The "Lady Vera" cycling cap is the chic and feminine french touch, the symbol of your cyclist community membership !
For all the cycling ladies who are proud to be cyclists, we imagined, with Céline from Vera Cycling, the ultra-feminine cycling cap : the Lady Vera.
The Cycling cap is THE accessory that show-off your membership to the cycling world and more ! It is the hat that protects you from the sun and the rain when cycling, it is the hat that bring a colored, chic and original to your outfits, it it the hat that you wear on and off the bike.
For this special edition, we wanted a cap that is both simply colored and graphical with a tone on tone of black and burgundy and a golden touch which looks like a meteor shower. The silkscreen printing is made by Marie for Hop-Là Workshop !
Lucile – Founder of Lady Harberton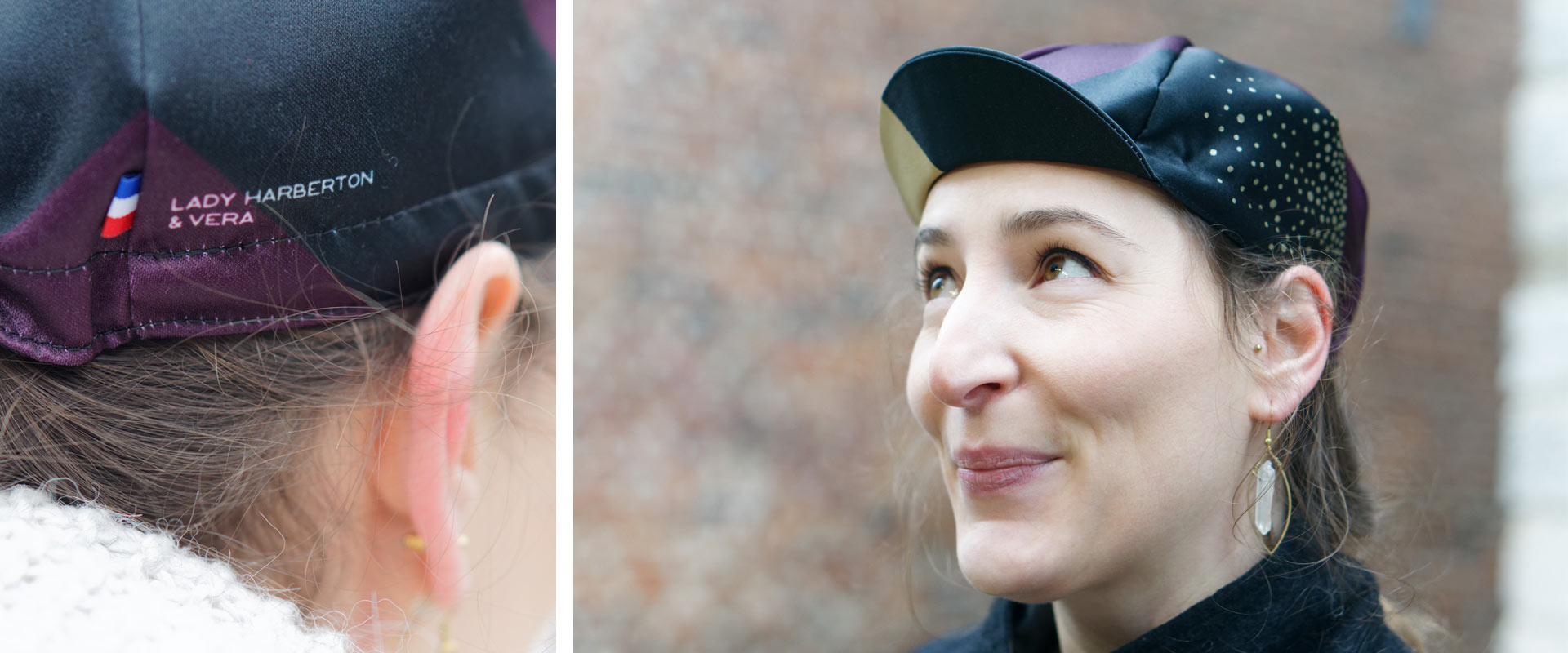 The little story of the "Lady Vera" cycling cap
Imagined by Céline from Vera Cycling, Lucile from Lady Harberton and Marie from Hop-Là workshop !
Céline lives in Lille is a passionate of cycling too. Daily commuter, you could meet Céline on her black fixie with a golden ring on it. Her passion for design and bicycle made her to launch her own brand Vera Cycling, in 2016 in Lille : witty cycling cap 100 % made in north of France.
It is just after Lady Harberton launch that I've met Céline. She explained me her project of a cycling cap brand and at that time we talked already about doing a collaboration for a cap together. Meanwhile, we collaborated on many projects as events and the Lille Cycle Chic group. We met each other quite often to work together and we spend also much time to look a cyclist on their bike from the place we love to work (yes, I can tell you that it is true !).
And 2 years after, here it is : Our Lady Vera Cycling Cap ! For this special edition we really wanted to work with Marie from Hop-Là workshop for the golden silkscreen printing (Marie who collaborated also for The Lady Harberton's tote bags). And to finish the story, It is thanks to Marie, that Céline and I met.
So here we go ! Everything is wrapped up, we finally meet all 3 on a design 100 % made in the north of France : the fabric is printed in Tourcoing, silkscreen printed and painted by hand in Lille and made in Arras.
Your "Lady Vera" Cycling Cap is not just a simple cap, it is a nice story of design !